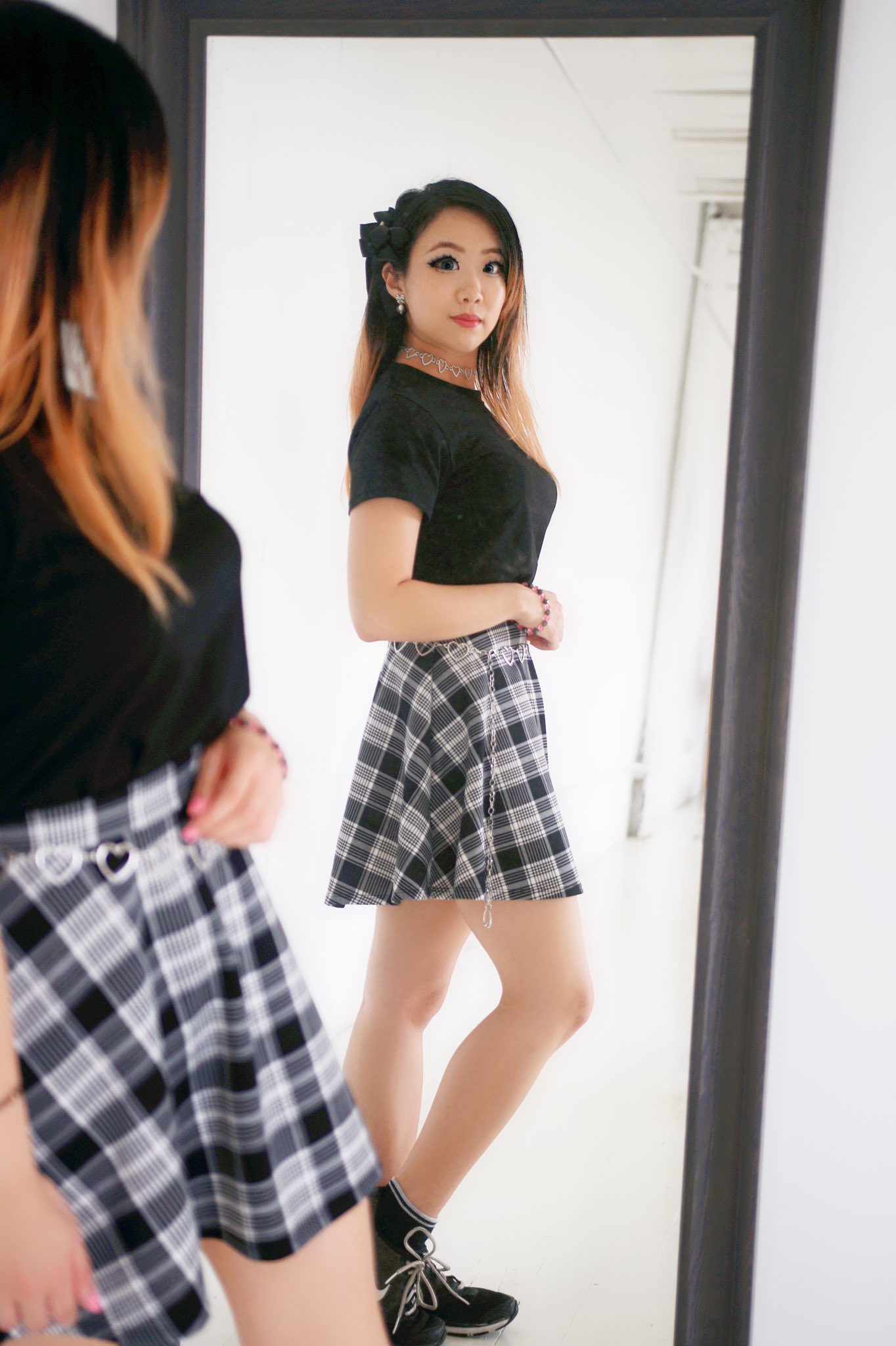 Hi everyone! It's September now, but I've been super busy so I haven't had the chance to write up my YesStyle Summer Haul until now. On top of any sales going on at the moment, use my code "3PEARLS" to get an additional discount off your entire order!
You can check out my First Haul and my Spring Haul too.
For my summer haul, I got a bunch of clothes and accessories … and YesStyle also sent me a beauty product to review. Read on to check it all out! Feel free to read about my past hauls too: My First Haul and My Spring Haul.
Let's go over the accessories I purchased first! Then, I'll move onto the clothing (and saving the beauty product for last.)
5. Asymmetric Short-Sleeve Plaid Cropped Blouse / A-Line Skirt – ★★★☆☆ – This set is soooo cute! If you want to buy both, make sure to select both items and add to your cart (it'll show up like two different purchases). You need to add the blouse and the skirt to your cart separately. I got this set in Size M and the skirt fit (fully elastic waist, which I love!). The top has shirring in the back, but this was too big/too loose around my bust. I think this top will be better for someone who is bustier than me (alas, I'm very flat-chested…). Giving 3 stars since I wish it was easier to buy it as a set, and wish that the measurements were more accurate for the bust. I only tried this set on at home briefly and took some photos, but it's like new! Feel free to purchase it from me here on Depop. 😉
6. Square Neck Puff Sleeve Blouse – ★★★★☆ – I haven't worn this blouse yet, but it is very cute and fits well! I knocked off a star because the fabric is more thin than I expected (kind of see-through), and came with loose threads. It's a beautiful red color though, and I look forward to wearing this blouse!
7. Sheer Short-Sleeve T-Shirt – ★★★★★ – Love this shirt! It's high quality, and the photo does not do it justice. It has a beautiful shift in color and a metallic tint. It's sheer mesh, but looks really cool with a funky bra under it. You can also style it with a camisole, or even wear it under something (like under a jumper!). There's a lot you can do with this T-shirt.
8. Ruffled Camisole in pink – ★★★★★ – I was pleasantly surprised by the quality of this camisole! It was so cheap that I was expecting the quality to be low, but it's even nicer quality than the camisoles I got from H&M. It's a comfy and stretchy ribbed texture, and I'm glad the straps are fine as well (if straps aren't adjustable, I tend to have issues with the straps being too long due to my small shoulders).
9. Short-Sleeve Bustier Crop Top – ★★★★☆ – This is a super cute top, but it's too big around the bust for me (even with a push-up bra). It would be better suited for someone bustier! The quality is not the best though, and I had to snip off a lot of loose threads.
10. Shirred Ruffled Cropped Camisole Top in red – ★★★★☆ – This is a really cute camisole top, and it has adjustable shoulder straps. However, the fabric was way shinier in person than I expected. In the photo above, I did not use flash. So you can imagine how bright/shiny it'll look if flash photography is used! It's still a beautiful camisole though. I'm just not sure I can wear it often.
11. Halter Top – ★★★★★ – I was really impressed with this halter top! I never had a halter top before, so this is my first one (unless you count halter swimsuits). This is a ribbed ivory/cream colored halter. It's cropped but not too cropped, and you tie it around your neck. It's super comfortable to wear and really flattering! The quality is great. From the product listing, you can also get the matching jeans, as seen here.
12. Lace-Up High-Waist Denim Shorts in dark blue – ★★★★☆ – Love these shorts! They're so comfy and cute, and I love the lace-up details. I knocked off a star because they didn't come pre-laced, and there were a lot of loose threads. Sizing was accurate and this fit comfortably! You can also tighten it / adjust the size a bit with the lacing (pull it tighter if you want it to be smaller). I am tempted to get another, but I'm not sure if I want one in black or one in light blue…
13. Cutout Shorts – ★★★★☆ – So in my Spring Haul, I got the Cutout-Side Pleated A-Line Skort, but this was not an accurate listing because it was just the overskirt and did not have shorts with it. I got these shorts to go with it, and they match perfectly even though it's from another set! The quality isn't the best, but it is cute and comfortable. The material is super stretchy. There's a side zipper as well.
14. Plaid Pleated Mini Skirt in pink – ★★★★★ – I love this skirt so much! The material is thin and perfect for summer, and it's actually a skort – it has built-in safety shorts! There's a side zipper but the material is stretchy too. This skirt comes in different colors too, so if pink isn't your style, you can choose another color!
15. Lace-Up Pleated Mini Skirt in white – ★★★★☆ – Really cute white skirt (technically a skort; again, it has built-in safety shorts!). It didn't come laced up, so similar to the Lace-Up High-Waist Denim Shorts, I had to lace them up myself. There were also loose threads I had to clip off. It's comfy to wear! I noticed it's out of stock, but I found a similar one here you can buy.
16. Gingham Mini Skirt – ★★★★★ – I was really impressed with the quality of this skirt! It's super stretchy and comfy, and looks very flattering. I love the gingham pattern and ruffle hem. It's even better quality than the skirts I have from H&M and Forever21.
17. THE PLANT BASE – Time Stop Collagen Ampoule – ★★★★★ – Click here for my Instagram post and review about this product. I wrote the review 5 weeks ago, after I used the product for over a week. I used it every morning and night, and I just finished using the product (it lasted me about 7 weeks). I applied this after my toner and before my moisturizer. It was the first product I tried from The Plant Base, and I'm curious about their other products. I really like the packaging; it has a unique dropper style! Another beauty product I reviewed is the Beauty of Joseon Revitalize Sleeping Mask, which you can also get from YesStyle!
What are your favorite items from my haul? If you did a haul recently from YesStyle, I'd love to hear about what you got too! Remember: if you're gonna shop there, be sure to use my code "3PEARLS" to get an additional discount off your entire order!
❥❧ Shop my Closet on Depop
❥❧ Facebook: Cosplay and Fashion
❥❧ Instagram: PearlPeony and AliceinLolitaland
❥❧ Tumblr: Personal and Fashion
❥❧ Twitter: TreizeMacarons
❥❧ Youtube: Alice in Lolitaland
❥❧ WorldCosplay: Xiao
❀ For sponsor inquiries, please contact me at: missxiaorawr@gmail.com ❀